Main exported products; fastest growing countries; and new challenges, are some of the points that SHAFFE, analyzed at 12 Jornadas APAMA.
SHAFFE – The Southern Hemisphere Association of Fresh Fruit Exporters- represents the eight major fresh fruit exporting countries.
SHAFFE represents 11 million tonnes of fresh fruit exports worth 14 billion USD, approximately 25% of the total global fresh fruit supply.
"Our vision is to connect the Southern Hemisphere industry through knowledge sharing and facilitating access to international trade for our partners. We want a fruit and vegetable trade without barriers in the destination markets" explained Christian Carvajal, SHAFFE Presidente,  during his presentation at the 12th APAMA Conference, organized by the Association of Blueberry Producers of Mesopotamia Argentina, a partner of the Argentine Blueberry Committee (ABC).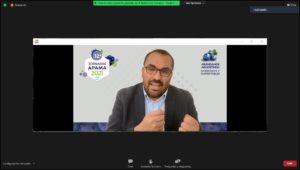 Exports  SHAFFE members in 2020
In the presentation, Carvajal detailed the reality of fresh fruit exports from the hemisphere and specified that between 2019 and 2020 the area had a growth of 6.4%.
During 2019, exports totalled 14,718,176 dollars. During 2020 it was for a total of 15,657,436 dollars.
The top exporting countries were Chile with 29% of the share; South Africa with 21%; Peru with 20%; New Zealand with 16%; Australia with 6%; Argentina with 5%; Brazil with 3%; and Uruguay with 0.5%.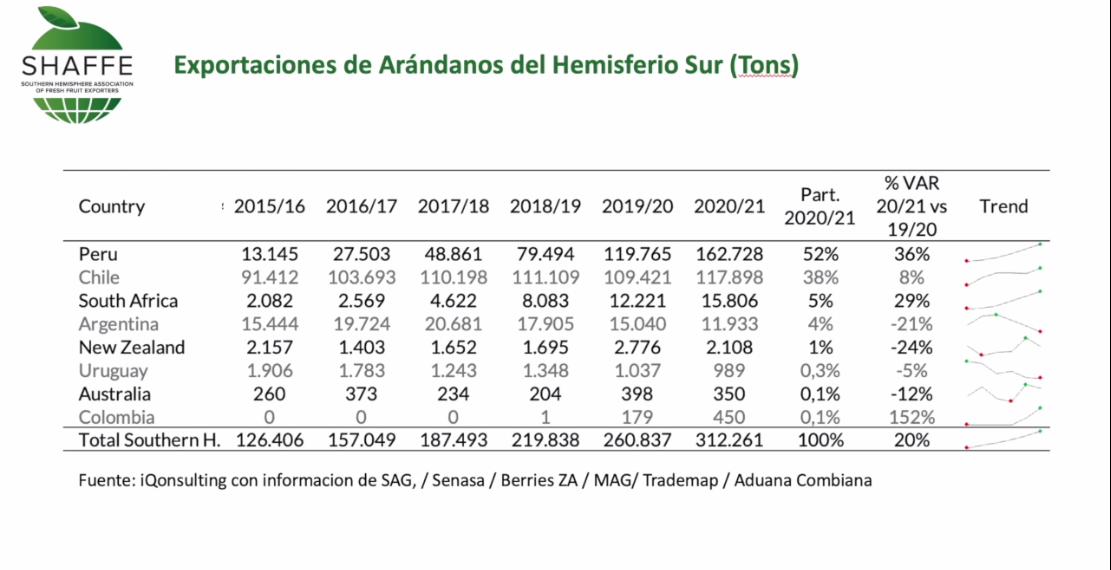 Main products exported by countries in the Southern Hemisphere
Grapes, kiwis, blueberries and apples account for almost 50% of fresh fruit exports from the Southern Hemisphere, said Carvajal at the APAMA Conference, highlighting that "the growth of blueberry exports from the Southern Hemisphere is remarkable, growing 72% from 2016 to 2020".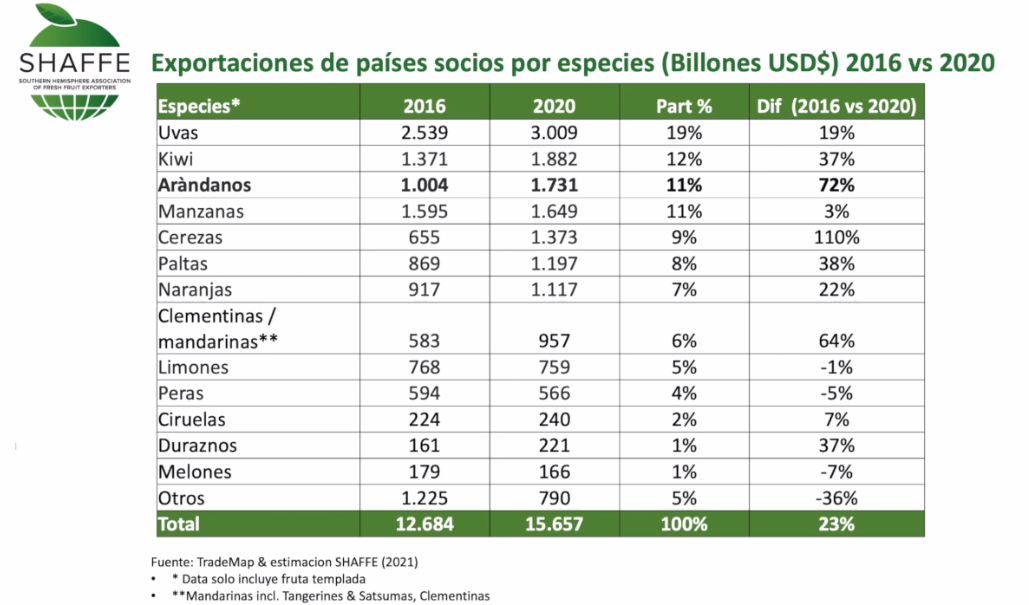 Main markets of SHAFFE members
18% of all fruit exported by HS is destined for the United States; 17% for China; and then +20% for Europe.
"It is remarkable the growth of exports to China, more than 95% between 2016 and 2020" Carvajal pointed out.
Blueberry exports
Carvajal highlighted that in terms of blueberry production, the country with the highest growth is Peru, adding the participation of Colombia, with the possibility of becoming an important player.
"Peru has a share of more than 50% of HS exports with a year-on-year growth of 36% in the last year," he indicated. As for Colombia, he said it started its exports in 2019, reflecting a 152% growth since that date, going from exporting 179 tonnes to 450 tonnes in 2020/2021.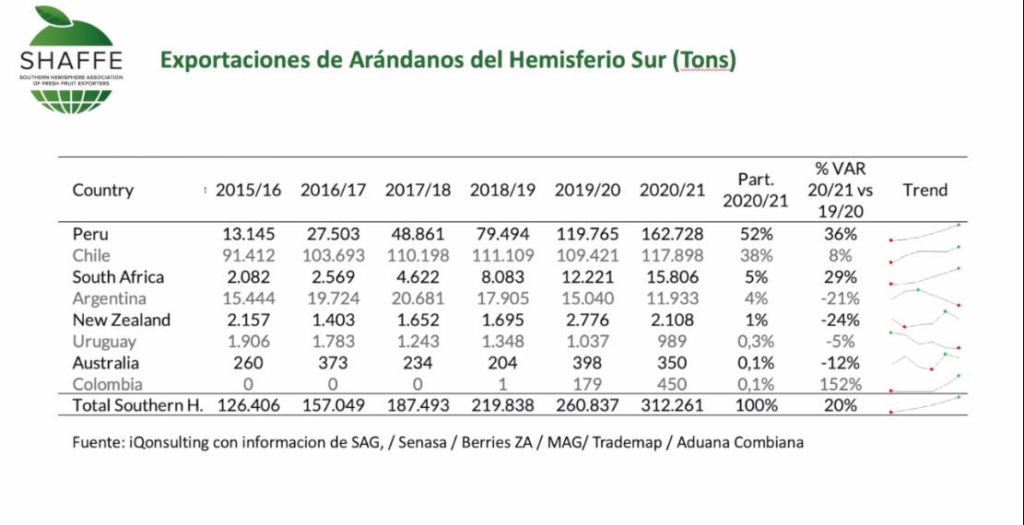 What are the challenges for the SHAFFE members?
Logistical delays was one of the major market access challenges perceived among SHAFFE members, as well as Covid-related problems.
National protectionism in some of the destination markets is a new problem faced by producers and exporters arising from "eat local". Government entities are calling to consume local versus preferring imported product.
However,  "80% of the members evaluate the future in a positive or very positive way, the perspective to continue growing by producing and exporting delicious and healthy fresh fruit from the Southern Hemisphere is very positive", said Carvajal.
In relation to the projects that SHAFFE is working on, "the creation of the first Master's degree in international trade of fresh fruit will soon be announced, which will include subjects such as Free Trade Agreements, Sustainability, Food Safety, Marketing and Communication, all within the fruit and vegetable sector", added.
Finally, he referred to the Working Commission composed of professionals from SHAFFE member countries, through which a hemispheric action strategy will be defined to face the challenge of sustainability. Under the leadership of the Argentinean Gabriel Wasserman on behalf of Frutas de Argentina, this Commission will draw up a White Paper to map out SHAFFE objectives and actions in the short, medium and long term.